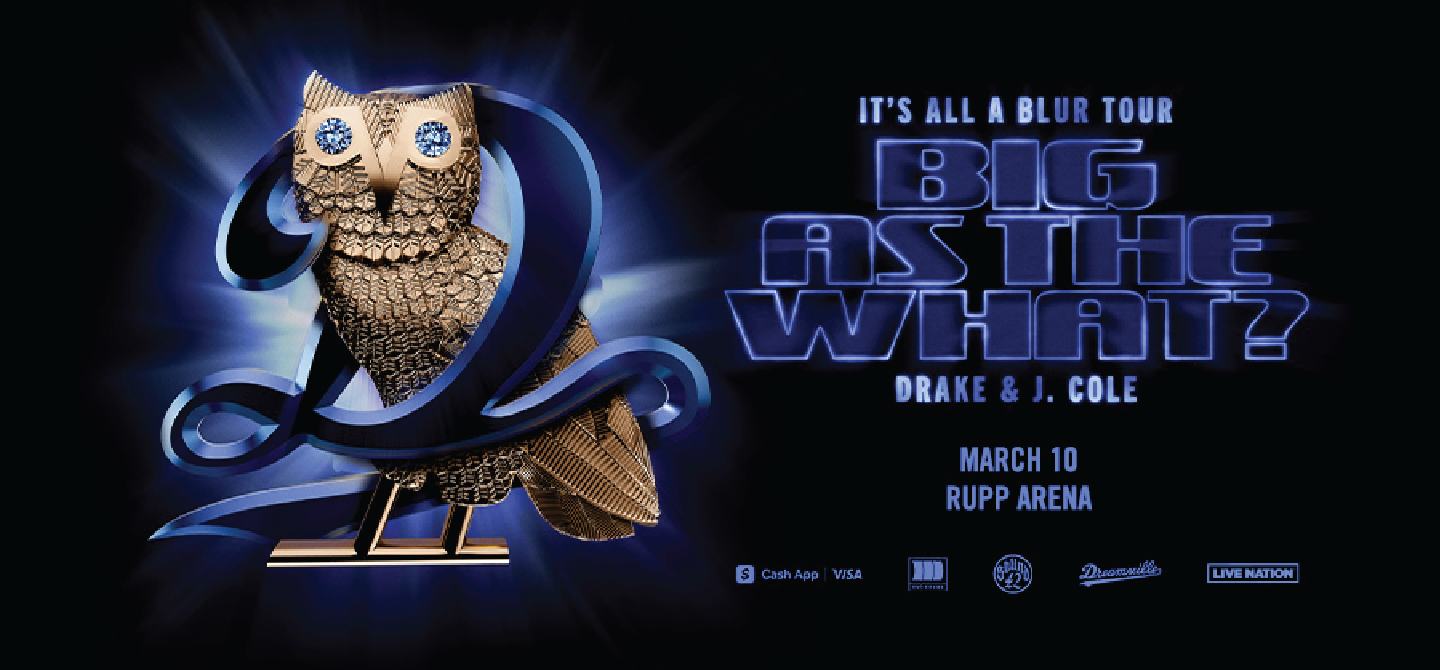 Drake with J. Cole
It's All A Blur Tour – Big As The What?
Drake with J. Cole
It's All A Blur Tour – Big As The What?
Drake. J. Cole. Lexington. Rupp Arena. March 10th. It's All A Blur Tour – Big As The What? Get tickets Friday, November 17that 11AM.
Drake is a Grammy Award-winning, platinum-selling recording artist and multi-faceted performer. Canadian born, the hip hop artist first emerged in the music industry in 2009 when he debuted his EP So Far Gone, named the hottest mixtape of the year by MTV and selling over 650,000 copies. Fast forward to 2018, Drake dropped the platinum double LP, Scorpion which included a staggering 25 tracks. Succeeding the album's release, Drake hit the road headlining the U.S. tour Aubrey & the Three Migos, which featured surprise guests like Meek Mill, French Montana, and Travis Scott among many others. Over the last five years, Drake has focused on the development and creation of his music, leading to some of his most praised work. Topping the U.S. charts in August of 2019, Drake released Care Package, his first compilation album that consists of songs from 2010 to 2016 that weren't initially available for commercial streaming. In September of 2021, Drake released his most highly anticipated album yet titled, Certified Lover Boy. CLB marked his sixth studio album and broke Apple Music's one-day streaming record in just under 12 hours. Leading into Summer of 2022, Drake surprised fans with his seventh studio album, Honestly Nevermind which includes a notable feature from 21 Savage. Drake and 21 Savage's collaborative studio album titled, Her Loss quickly followed with its debut in November of 2022. The album reached number one on the Billboard's 200 chart and all 16 songs debuted on Billboard's Hot 100 list. Most recently, Drake released his eighth studio album, For All The Dogs via OVO Sound and Republic Records.